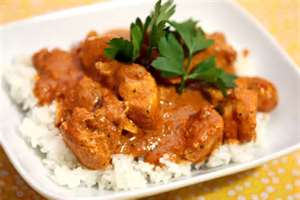 WAND's Cook and Taste workshops demonstrate:
Cooking nutritious affordable meals.
Preparing family budgets.
Talking about money with children and grandchildren
Chicken Tikka Masala
Ingredients
3 tbsp low fat natural yoghurt
2 tsp fresh garlic, crushed
2 tsp fresh ginger, crushed
1 tsp black pepper, coarsely ground
1 tsp red chilli paste
2 tbsp coriander,chopped
1 Lemon
450g skinless chicken breast, diced
1 tsp cumin seeds
1 medium onion, chopped
1 tbsp fenugreek leaves, chopped
2 tbsp tomato puree
1tsp garam masala
11/2 ground coriander
2 tbsp half fat crème fraiche
1 tsp oil
Prep 20mins cook 20 mins Serves 6
Method
Mix the yoghurt, garlic, ginger, black pepper, chilli paste, juice of 1 lemon and half the fresh coriander and spoon this mixture over the chicken. Allow to marinate for 1-2 hours in the fridge.
Heat the oil in a large pan, add the cumin and chopped onion and cook on a medium heat until brown.
Remove the chicken from the marinade and add the chicken to the pan. Cook on a high heat for about 5 minutes.
Stir in the fenugreek, tomato puree, garam masala and cumin and coriander powder.
Reduce the heat and simmer for 15-20 minutes or until the chicken is cooked and the liquid has evaporated.
Stir in the crème fraiche and coriander before serving
Why not try..?
Serving in wholemeal pitta bread with lettuce and sliced cucumber and tomato
Serving with steamed vegetables e.g. broccoli, or adding vegetables into the pan with the chicken e.g. spinach or peas and serving with basmati rice
Replacing the chicken with white fish fillets