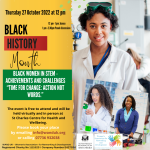 It has become more apparent than ever that there is an issue with diversity in the tech industry. According to a report run by campaigners, Coding Black Females, it was discovered that 20,000 black women would need to be recruited in order to make up for the current absence in the IT industry. The survey that was conducted by the campaigners found a general consensus that the culture of the industry needs to change to be more welcoming and provide better opportunities not only for women in general but specifically women of an ethnic minority.
Last Thursday we wanted to celebrate the women that have succeeded in this industry by inviting a guest panel to our Black History Month event to speak about their journeys as Black women working in STEM. It was a truly inspiring and empowering day full of discussion and sharing individual stories about the challenges and achievements that have been made in the tech industry.
If you weren't able to join us on the day of the event, you can read some more information about our guest panellists below:
Our Panellists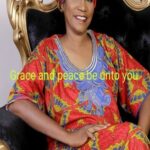 Prof. Nkechi Madonna Agwu, Ph.D., is an African Director, Chaplain and Pastor of the Worldwide Association of Small Churches and Church of the Living God Worldwide. She is a Founder and CEO of CHI STEM TOYS FOUNDATION a 501c3 organisation, birthed out of her research and educational endeavors.
She is an Ethno-mathematician, Carnegie African Diaspora Fellow and Global African Woman of Distinction in STEM. She is a Professor of Mathematics at the Borough of Manhattan Community College, City University of New York. She is the author of the renowned book "God's Own: The Genesis of Mathematical Story-telling". She is actively engaged in numerous educational and humanitarian projects in the United States, Africa, and other parts of the world, making visible the mathematical knowledge systems of indigenous people, facilitating STEM and entrepreneurship education for vulnerable, underprivileged and under-represented groups and uplifting orphanages and schools in rural communities.
A former refugee of civil war and a survivor of terrorism, she understands the tragedy of displacement and is actively involved in helping those similarly situated. As an agropreneur and 10th generation farmer feeding and providing employment for the poor in Nigeria, she is a member of the United Nations Planet Positive 2030 since a healthy mother Earth is crucial for sustainable growth and development in humanity.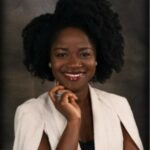 Ruby B. Sutton is a bold, analytical, and passionate leader. She is the founder of STEMher and publisher of STEMher Magazine, a wife, and a mother. She was born and raised in Freetown, Sierra Leone, and moved to the United States at 12 years old. She grew up in the state of Maryland and went on to receive her degree in mining engineering and minor in women's studies leadership at Virginia Tech. She founded the When You Believe Foundation in 2010, a program that empowers women and girls through social media engagement, workshops, and donations. 
She worked as the air specialist in the environmental department at Nevada Gold Mines, Cortez Operation and advocated for the recruitment and retention of girls and women in science, technology, engineering, and mathematics (STEM) through presentations at K-12 schools and other settings.
A speaker and panelist at various events and conferences on the topics of STEM, girls and women's empowerment, mining, faith, leadership, passion and purpose, body image and beauty ideals, community development, and international affairs. Featured in several local, national, and international platforms 
Premiered in September 2018 with its autumn issue, STEMher Magazine is a print magazine showcasing the education and experiences of girls and women in STEM academia, careers, and programs. Ruby B. Sutton has featured more than 100 STEM girls and women worldwide through the Magazine in other countries. 2018 STEM honoree for the Girl Scouts of the Sierra Nevada's "TRIUMPHANT: Celebrating Women in Leadership Dinner." In October 2018, she was a panelist in the Eastern Nevada STEAM Summit, comprising of STEAM educators/professionals. She served as Miss Sierra Leone USA 2012, Miss Earth Maryland 2015, Miss Elko USA and Miss Nevada USA Photogenic 2018. 
In 2018 and 2019, Sutton was asked to be the keynote speaker at the annual "Dream It, Be It" Career Day event for high school girls in Elko County. In April 2019, she was a keynote speaker at the Soroptimist International – Sierra Nevada Region's 43rd annual conference in Reno, Nevada. In 2019, Sutton gave a lecture at the Great Basic College Leadership Series in the fall. In 2020, she was asked to be the speaker at the commencement ceremony for Great Basin College. In March 2021, Sutton was the guest speaker for the Career Explorations: Women in STEM spring series.  
Sutton has been a Church youth leader and mentor to preteen and teenage girls in Maryland and Nevada. For several years, she has been a judge for the annual Engineer Girl Essay Contest and the Elko County STEM Fair. She is a member of the Society for Mining, Metallurgy, and Exploration's Northeastern Nevada chapter. She is a Nevada STEM Ambassador for Northeast Nevada. Advocate for autism awareness and has been a volunteer for organizations such as Special Olympics, The United Service Organizations (USO), and So Others Might Eat. 
Ruby B. Sutton's personal motto is "reach for excellence and nothing less."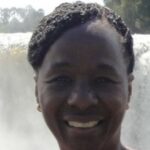 Dr. Arlene Cole-Rhodes grew up in Sierra Leone and attended school in Freetown, Sierra Leone from the primary level through High school. On completing the A-level (Advanced level) examinations to enter University, she was awarded a Sierra Leone Government National Scholarship to pursue her Bachelor's degree at Warwick University in England."  
Dr. Arlene Cole-Rhodes is Associate Dean of Graduate Studies & Research at the Clarence M. Mitchell School of Engineering, and Professor in the Department of Electrical & Computer Engineering at Morgan State University. She holds a B.Sc. degree in Applied Mathematics from Warwick University, England, and an M. Phil. degree in Control Engineering from Cambridge University, England. She received her Ph.D. in Electrical Engineering & Computer Science from the University of California, Berkeley in 1989, and she joined the Machine Perception Research Department at AT&T Bell Labs in Holmdel, NJ as a member of the Technical Staff in 1990. She has been on the faculty at Morgan State University since 1993.
Her early research was in the area of control of robot manipulators, and her more recent research has focused on developing adaptive algorithms for the detection and estimation of wireless signals over multiple-access MIMO communications. Her signal-processing research has focused on developing beamforming and equalization algorithms for wireless systems, as well as algorithms for remote-sensing multi-sensor image registration and fusion.
Dr. Cole-Rhodes has worked with both graduate and undergraduate students on research projects in her lab, and the results of this work have resulted in over 60 publications with presentations at both national and international conferences. Many of her research projects were collaborative and funded by NASA, the Army Research Labs, the National Science Foundation and the U.S. Dept. of the Navy. She contributed three chapters to the edited book 'Image Registration for Remote Sensing' published by Cambridge University Press (2011), and she was recently awarded U.S. Patent 11,005,540 titled 'Method and System for MIMO Communications in Millimeter-wave Networks' by the USPTO, in May 2021. Dr. Cole-Rhodes spent a six-month period of sabbatical leave at the Carnegie Mellon University, Rwanda campus in the spring of 2017 as a Visiting Professor at the Information & Communications Technologies (ICT) Center of Excellence.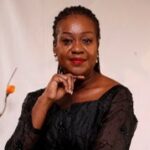 Trudy Morgan is a British and Sierra Leonean national, was awarded Female Engineer of the year (2017), and inspirational female in STEM by the Next Einstein Forum (2018), and the most inspirational female engineer by Eminence Africa, a Sierra Leonean-based awards organisation. 
She's the first female Vice President of the Sierra Leone Institution of Engineers, a Council Member of the Professional Engineers Registration Council, and Co-founder and President of the Sierra Leone Women Engineers. Most recently, she made history as the first African female Fellow of the prestigious Institution of Civil Engineers. In June 2020, she was installed as President of the Institution, the first female in its 50-year history. 
Trudy Morgan is a Project Management professional with a background in civil engineering and started her career working on iconic buildings in London, followed by 11 years designing and building railway bridges across the UK. 
Following an MBA at Cranfield, she spent the next 10 years working in management consultant, business development specialist roles and led three international teams across 17 countries designing and constructing offices for a large UK government agency. Since 2016, she has worked in Sierra Leone on various projects with the United Nations Office for Project Services (UNOPS), including as the Technical Coordinator on a landslide remediation project further to the collapse in August 2017 of Sugarloaf Mountain, located on the outskirts of the capital Freetown. She has also worked with the World Bank in developing a programme to address urban services within Freetown and on the Schools Reopening Programme in response to the Ebola crisis in Sierra Leone.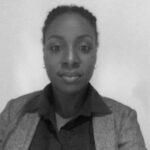 Chudi Bobb-Lucas is a Structural Engineer with over 8 years hands-on practical experience in the UK. She worked in her father's construction company in Sierra Leone as a teenager during every school and University summer holiday. Chudi was born in Dortmund, Germany to Sierra Leonean parents. Her formative years were spent in Sierra Leone, and she moved back to Dortmund, Germany for her university studies. Now based in the UK, Chudi is tri-lingual with three mother tongue languages (English, German, and Krio). 
As well as Engineering, Chudi is also a baker and founder of her own cupcake company, and personal Engineering Consultancy firm ECIC Structures UK. 
Chudi enjoys travelling, particularly to tropical countries. She is a fan of the arts and is a fan of theatre and cinema films. Chudi is a big advocate for women, particularly black women, in STEM-related fields. In her line of work engineering firms in the UK tend to be male-dominated with very little representation from the black community. She is therefore keen to influence and contribute to a change in attitudes and representation. 
Chudi has worked as a structural engineer for 8 years working for Sedgwick International, Mezzanine International and Bruce, Cuffley & Partners. Her qualifications include a Structural Engineering Degree from the prestigious Dortmund University of Technology, Germany and is currently working towards a Structural Engineering chartership. She aslo has 20+ years experience in the Civil, Structural and Construction Industry.
She has expertise in designing, fabrication and developing construction projects to required specifications focusing on economic, safety, reliability, quality, and sustainability. Her project experience includes using multiple materials including glass, timber, steel and concrete. 
Chudi went down the path of Structural Engineering as apposed to Civil Engineering due to her love of maths and the design side of construction.